My three favourite Watercolour Brands
Hey! Ever wonder why some Artists use different Paints compared to others?
Well in a way a Watercolour Palette is like an Artists trademark, however, at the same time, it can be items of love, convenience or Preference.
My favourite Watercolour Brands are a combination of all three. Do you ask why I would claim such a thing?
In different geographical, some brands are just more widely available as other Countries. A lot of the times this does not even mean that one Brand is better or worse than the other. Most Brands that produce Watercolour Paints will have a student Grade and a professional grade version. But all Brands also have a Geographical Location, precisely where the Brand decided to Market. Other brands have become a lot more Main streams which do not make them bad or less quality by any means: different Brand and Different Audience.
Just because you produce the same product does not mean that everyone will like it or buy it for that matter.
You can, of course, buy almost everything online, but even so, some Brands will be harder to get in some Countries than others. Even Online Shops sometimes have their limits, because your online Art Store might not stock a specific brand.
However, I feel as if there is nothing compared to going to a Crafts store and seeing the different Brand that is local to where you live, you might even be surprised as to where and what paints are available to you.
Also please keep in mind: just because another Artist loves and raves about one Brand does not mean that you have to like it as well. This small nugget is so important to keep in mind, especially with our World so dominantly filled with technology.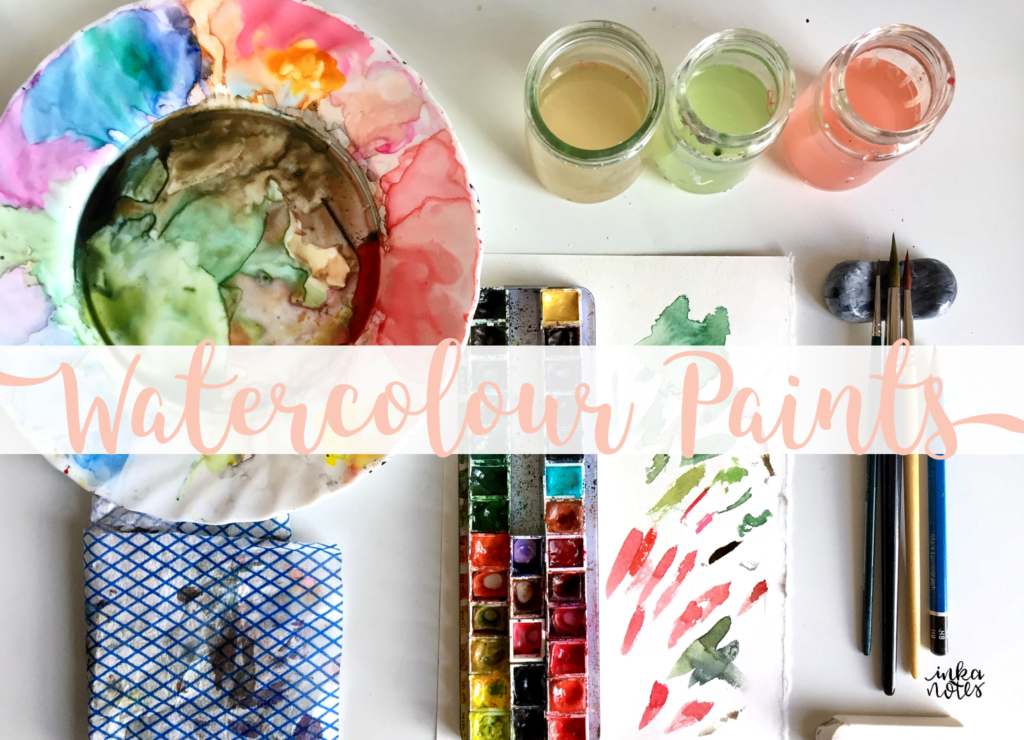 My two (three) favorite Watercolour Brands:
1 . Schmincke
For me, Schmincke was almost like a household name. Growing up I remember that my Dad always used Schmincke Watercolour Paints. I know I can trust my Dads judgment as he is continuously investing in good quality Products.
There was also this great (tiny) art store on the corner of the main square in the town we lived in, in Germany, where the Windows are filled with beautiful Art Supplies. This Christmas while being back home I realized it is still there and it made me feel like a Kid in a Candy Store.
Being German, although living in a different Country, it may also be another Reason to have a pull towards Schmincke. Sticking to the Roots.

Schmincke, however, is also a Company with a lot of History. One of the founders of Schmincke, Josef Horadam received the first patents for watercolors in 1892, making the Horadam (Professional Colours) 125 years old in 2018. They still use the same recipe to make each batch of Paint. The tubes and the pan both have the same mixture of paint, while the pans are also filled and dried 4 times each, making each pan of paint a labor of love over three months.
2 . Winsor & Newton
As you might know, I live in Ireland. Ireland is an absolutely stunning country, and I am proud to call it home, but some things are a little hard to get in the small country of ours, maybe not so much in Dublin. But here out in the West or Ireland, it can get a little harder. But it turned out that Faith and Luck were on my side and even though I only live in a 4500 population village, there is a Bookstore which has a corner of Professional Water colours. Sure there is only one Brand, but that is enough for me. This fact alone resulted in the fact that 1/4 of my Palette is now Winsor & Newton.
And am I mad about it no, not at all, in fact, I am happy that this made me try out a new Brand, and I can buy in on Demand.
Supporting those small local businesses is so important, so rather than buying everything online support them where you can.
So initially what I am trying to say it that some Watercolour Brands may have a "better" reputation than others, but are they better? There are some Professional Watercolour Artists out there who love the Student Grade Paints.
3 . Blue Pine Arts
The Blue Pine Arts Paints are almost something like what you would call an indie Label. They are handmade Watercolour paints produced in India. They have such lovley and rich pigment, created with much love and care by Trupti from @whatacolorgal (on Instagram) and her team. And Trupti in her self is such a wonderful and cheerful person. I had the privilege of meeting her in January 2019.
So what Watercolor Paint to choose?
I will not make that call for you. But the best advise I can give is to go to a local Art Store and see what brands they have. If you have multiple brands to choose from, get the Primary Colours (Red, Yellow, and Blue) and start mixing those and play around with Watercolours. You may be amazed by what results you get from only three colours.

---
All content, pictures Copyright © 2021 by inka notes | www.inkanotes.com • All Rights Reserved. All other content is copyrighted by the respective authors and linked to Origin.